Manuscript synopses
Thank you for visiting this page.
These are summaries or synopses of manuscripts in progress.
The fiction manuscripts are picture books; the biographies are for slightly older readers. Accompanying them are sample illustrations from the manuscripts. I'm ready to send them out in either manuscript or dummy form to interested art directors or editors. Needless to say I am always willing and prepared to do more revisions if necessary. In any case should a synopsis trigger your interest please feel free to contact me. Eventually the content of this page may be replaced or updated. Aside from the stories I write and illustrate I also accept illustration work for books by other authors. Again, for anyone with further questions for me - I'd be pleased to hear from you.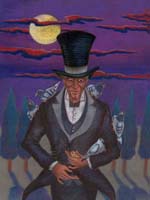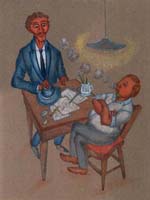 "Electrical Wizard"

This biography follows Nikola Tesla's amazing childhood, and later life leading to countless inventions by the 1940's, still in use by us today. Tesla's dramatic rivalry with Thomas Edison is detailed-one man an altruistic genius; the other a profit driven businessman.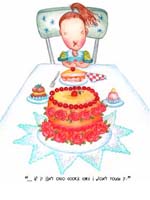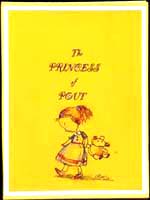 "The Princess of Pout"

An ambitious little girl discovers she has power and control in her life when she pouts; so she perfects the technique, but soon finds there is a tradeoff and she must choose between her princess status and friendships.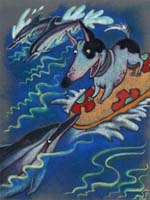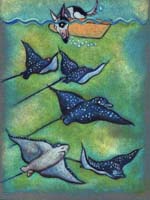 "Good Dog"

A wordless story starring a surfer's dog left on the beach while his master goes surfing. The dog jumps on a passing boogie board and experiences adventures of his own in the ocean with passing rays, flying fish, friendly dolphins, swordfish and menacing sharks.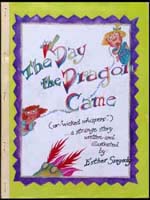 "The Day the Dragon Came"

A nosy bird called Rex observes the reaction to the 'new kid' in the schoolyard, who gets picked on mercilessly. A dragon shows up and chaos ensues, during which the two worst 'bullies' have to find a way to save that new kid.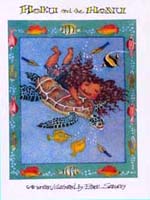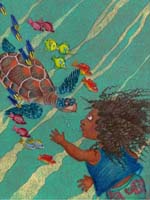 "Hoku and the Honu"

A modern day fairy tale about a little girl Hoku on the island of Hawaii  who rescues an injured turtle, then finds a way to help him heal, and returns him to the ocean, after which he always returns to her. Hawaiian vocabulary is included with translations and pronunciation guide.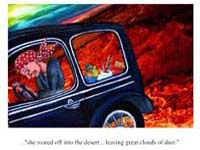 "Finding the American Dream"

The artist Georgia Okeefe knew what she wanted early in life and followed her dreams. This story shows how she achieved her singular reputation both as a woman and an artist by showing glimpses of her unusual world.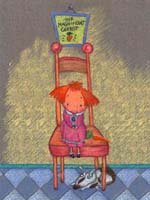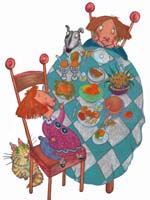 "Orange".

The lively tale of a little girl who will only eat orange food - believing her worth lies in her orange hair. However, she discovers through her best friend's unpredictable (but 'normal') eating habits that her value does not lie in her appearance.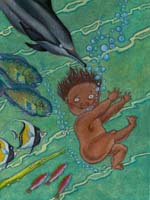 "Maui the Hawaiian Superman".

Maui's mother needs more daylight to dry her kapa cloth, so Maui lassoes the sun to make him slow down and provide more daylight hours. Maui and the sun battle fiercely and the sun is forced into a compromise.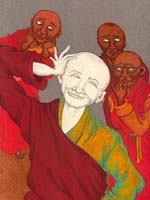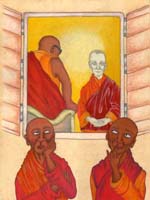 "Spiritual Trailblazer".

Tenzin Palmo, a young buddhist nun spends 12 years alone in a remote cave in Nepal. This alone made her exceptional, but she was also only the second Western woman ordained in the Tibetan tradition. She is a true trailblazer, fighting for women's rights to this day.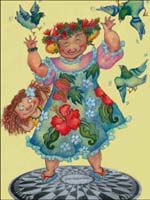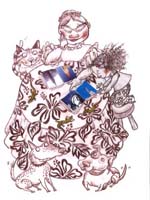 "Auntie Violet's Vacation" .

A truly classic Hawaiian grandmother takes her granddaughter to New York City becoming entertaining tourists; Auntie in turn shows the New Yorkers the meaning of Hawaiian aloha. Meanwhile the Hawaiian visitors are reminded what they love about their island home.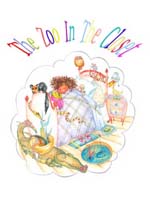 "The Zoo in the Closet"

Melly tells the kids at school about the pets she has at home, all of which are endangered and exotic. The kids think she's strange, don't believe her, and she has to bring them finally to her house to see the truth.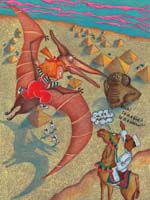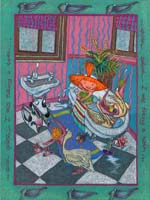 "What Would You Really Like to do Today?".

Marilyn's teacher asks the class to write stories about things they would like to do. Marilyn comes up with some wild and imaginative ideas. Her teacher is shocked at first, but then finds herself inspired by her student instead.